Basira Knight '18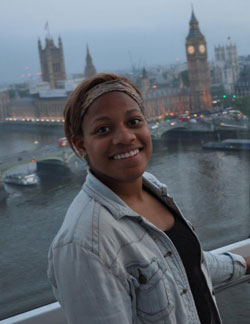 The Catholic University of America is blessed to have student leaders who take ownership of their education and make the most of their undergraduate experience embody our University's mission and values.
These students' involvement in clubs and activities enriches their time at the University and provides them with invaluable leadership opportunities: they are often presidents, club executive officers, Orientation or Resident Advisors, Student Ministers, or representatives on Intercultural Leadership Council. These students often serve as mentors for their classmates and prospective students-their stories can serve as roadmaps for success and model how to get involved in CUA's multicultural community.
Basira Knight '18 is a Politics Major from Cary, North Carolina. She is currently a member of the Women's Swim Team and on the executive boards of both the Black Student Alliance and the Arabic Club. Basira has also served as Vice President of the acapella group Take Note.
Speaking of her experience working with the Arabic Club, Basira notes:
"We currently are working to put on an event for the school that would be informative in a political, religious, and social way. Throughout this process I have not only learned so much about our speakers, but the cultures and countries that they are from as well."
Basira believes that "clubs like the Black Student Alliance and Arabic Club are so important for the growth of every student on campus."
Moreover, Basira concludes:
"We are so unbelievably fortunate to live in a country where we have rights protected by laws and the freedom of speech to protect those rights,but other countries are not that fortunate. Having these sources of information and culture on campus help every student to gain a new perspective of the work so that we can help join in to help change it for the better."
Basira is one of many students at The Catholic University of America working to promote diversity and inclusion on campus and beyond. Whether students like Basira are coordinating club events, engaging the Washington DC community, or travelling the world, CCE works to make their time at Catholic University of America both memorable and impactful.