Cahlia Walton '17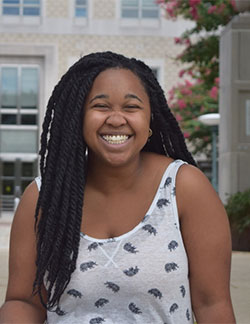 The Catholic University of America is blessed to have student leaders who take ownership of their education and make the most of their undergraduate experience embody our University's mission and values.
These students' involvement in clubs and activities enriches their time at the University and provides them with invaluable leadership opportunities: they are often presidents, club executive officers, Orientation or Resident Advisors, Student Ministers, or representatives on Intercultural Leadership Council. These students often serve as mentors for their classmates and prospective students—their stories can serve as roadmaps for success and model how to get involved in CUA's multicultural community. Cahlia
Walton '17 is a senior International Business major from Mount Vernon, NY.
During her tenure at CUA Cahlia has been a member of the been DREAM Team and the Black Student Alliance (BSA).
According to Cahlia:
"The Dream Team and BSA have had a huge impact on my time at CUA. They have given me a group of people that I know will understand my experiences and will not judge me. Both organizations have also given me safe space on campus to make me feel more included."
Why are Intercultural programs important?
"Intercultural programs are important to a students experience because to me they are really what makes a person feel connected to the school. If a person feels included with a group they are more likely to feel at home at CUA or any college. A sense of belonging is so strong that people need them in a way to feel safe."
Cahlia is one of many students working with the Center for Cultural Engagement (CCE) and different cultural clubs to promote diversity and inclusion on campus and beyond. Whether the leaders of the multicultural community are coordinating club events, engaging the Washington DC community, or travelling the world, CCE works to make their time at Catholic University of America both memorable and impactful.