Caitlyn Manalo '18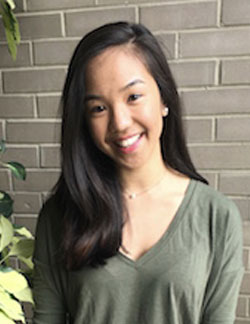 The Catholic University of America is blessed to have student leaders who take ownership of their education and make the most of their undergraduate experience embody our University's mission and values. These students' involvement in clubs and activities enriches their time at the University and provides them with invaluable leadership opportunities: they are often presidents, club executive officers, Orientation or Resident Advisors, Student Ministers, or representatives on Intercultural Leadership Council. These students often serve as mentors for their classmates and prospective students-their stories can serve as roadmaps for success and model how to get involved in CUA's multicultural community.
Caitlyn Manalo '18 is a junior majoring in Accounting. A Maryland native, Caitlyn has been actively involved with the CUA Student Organization of Latinos (SOL) since her first year at CUA. As a sophomore Caitlyn was elected to serve as SOL's social media chair, and currently serve as the organization's Vice President. Along with being actively involved with SOL, Caitlyn also supports the endeavors of other cultural student organizations, such as BSA and FOCUS.
Participating in these programs have become a central part of Caitlyn's identity at CUA.
As Caitlyn affirms:
"Almost all of the close friends I have made at CUA were due to the fact that I participated in these programs. It has played a major role in determining who I am and where I believe I fit best in CUA's community. Personally, I treasure the welcoming and open acceptance that is present in all of the intercultural programs. Although I embrace my Filipino heritage, I have also found a sense of self with being a part of SOL, which is refreshing to reflect upon. I never knew how much I valued culture until I started college and became involved with these programs. While I was growing up, I never thought or cared for the importance of culture, but the intercultural programs at CUA have truly enlightened my perspective about its significance."
According to Caitlyn:
"Intercultural programs are important to a student's experience because it allows people to explore and enrich their understanding about different cultures, perspectives, and values. Not only do they offer an opportunity and place in which students can fully embrace who they are, but they also provide a way in which students are able to celebrate other cultures and develop a fuller grasp and appreciation for the different cultures that exist."
Caitlyn is one of many students at The Catholic University of America working to promote diversity and inclusion on campus and beyond. Whether students like Caitlyn are coordinating club events, engaging the Washington DC community, or travelling the world, The Center for Cultural Engagement works to make their time at Catholic University of America both memorable and impactful.