Cecilia Cano '18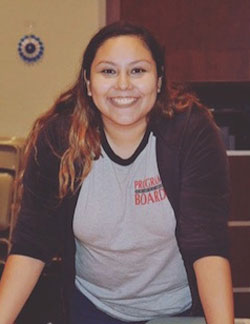 The Catholic University of America is blessed to have student leaders who take ownership of their education and make the most of their undergraduate experience embody our University's mission and values.
These students' involvement in clubs and activities enriches their time at the University and provides them with invaluable leadership opportunities: they are often presidents, club executive officers, Orientation or Resident Advisors, Student Ministers, or representatives on Intercultural Leadership Council. These students often serve as mentors for their classmates and prospective students-their stories can serve as roadmaps for success and model how to get involved in CUA's multicultural community.
Cecilia Cano is from Los Angeles, California and is currently a junior Psychology major. She is also the Secretary of CUA SOL, a programming chair on Program Board. Cecilia also works for the Office of Campus Activities.
She credits participating in CUA SOL in helping make her "college experience more memorable" and because as Cecilia states:
"I have met some of my best friends and have enjoyed being part of an organization that lets me express myself for who I am and encourages me to be proud of where I come from. I recently planned, "Spirit of the Bull" where Program Board and SOL worked together to promote Hispanic Heritage Month."
Cecilia is proud to be a student at CUA "where we have a variety of intercultural organizations". According to Cecilia:
"These student organizations] allow our community to learn and respect the different cultures on our campus. I think it is important to have these intercultural groups on campus to allow a space where all students can express themselves and be proud of who they are unapologetically just as they have done for me."
Cecilia is one of many students at The Catholic University of America working to promote diversity and inclusion on campus and beyond. Whether students like Basira are coordinating club events, engaging the Washington DC community, or travelling the world, CCE works to make their time at Catholic University of America both memorable and impactful.