Catherine "Katie" Broshek '18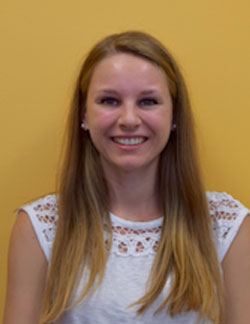 The Catholic University of America is blessed to have student leaders who take ownership of their education and make the most of their undergraduate experience embody our University's mission and values.
These students' involvement in clubs and activities enriches their time at the University and provides them with invaluable leadership opportunities: they are often presidents, club executive officers, Orientation or Resident Advisors, Student Ministers, or representatives on Intercultural Leadership Council. These students often serve as mentors for their classmates and prospective students-their stories can serve as roadmaps for success and model how to get involved in CUA's multicultural community.
Catherine "Katie" Broshek '18 is a junior Psychology Major from Long Island, NY. Katie has been a member of the Dream Team since she was a sophomore and frequently attends various discussions and events on campus related to intercultural dialogue. Being a member of an intercultural program like the DREAM Team has in a way been a capstone to Katie's experiences at CUA. Given her passion for psychology, Katie really tries incorporating her academic goals into everything she does on campus. Part of Katie's desire to become a psychologist is driven by her passion for listening to people tell their personal stories. Whether it be on the
Orientation Team
, or on a campus tour, or hanging out with her Best Buddy, Katie's favorite thing in the world is the honor she feels when she has the opportunity to humbly bear witness to someone's story by actively listening. Cultural awareness helps Katie in this pursuit because she wants to be especially open and understanding of people whose stories are completely different from hers, or maybe even anyone she's ever known. This kind of work honestly isn't really something Katie ever saw myself diving into before arriving at college, but now that she's had the opportunity to get started, she is so excited about transforming CUA into the community that she knows it can be.
As Katie so often reminds us:
"Intercultural programs are essential to any university experience. In college, students have a unique opportunity to be surrounded by people from so many different backgrounds and cultures."
According to Katie:
"As student we owe it to ourselves to engage with and learn from each other, regardless of our differing backgrounds. Intercultural programs provide students with opportunities to learn in ways that are not possible in a classroom, and I think that is one of the most important parts of any college experience."