Marjan Koffa '17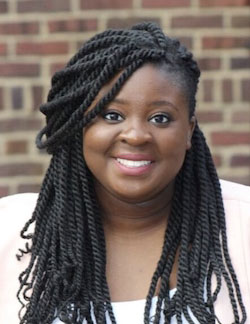 The Catholic University of America is blessed to have student leaders who take ownership of their education and make the most of their undergraduate experience embody our University's mission and values. These students' involvement in clubs and activities enriches their time at the University and provides them with invaluable leadership opportunities: they are often presidents, club executive officers, Orientation or Resident Advisors, Student Ministers, or representatives on Intercultural Leadership Council. These students often serve as mentors for their classmates and prospective students-their stories can serve as roadmaps for success and model how to get involved in CUA's multicultural community.
Marjan Koffa is a senior Media Studies major. During her time at CUA Marjan has been a member of the Black Student Alliance for which she has served as Secretary and the Media and Advertising Chair. As part of her efforts with BSA Marjan has spearheaded "Melanin Monday" a weekly social-media campaign that promotes positive images of people of African descent. She also in the process of completing a documentary exploring experiences of black students at CUA.
Marjan was also previously a member of The Dream Team, during which, she and her partner Charles facilitated an event called, "Do you even know me", where they explored the stereotypes and biases that are perpetuated too frequently in the media and film, and the impact they have on how people view others. She is also a huge supporter of SOL and FOCUS, attending various cultural events that they put on each year and occasionally performs at these events. She is also a senator in the Catholic University of America Student Government Association (SGA).
According to Marjan:
"Having programs on campus that are created to celebrate and understand different cultures and even to create dialogue on campus regarding topics that are often times considered taboo, has tremendously impacted my experience at CUA in a positive way. In more ways than one, it is a constant reminder that there are people on campus that can relate to who I am, have been through the same experiences I've had, and are just as adamant as I am in communicating to the larger community of the CUA how rich and beautiful all of these different people and cultures represented on campus truly are."
When asked why she believes intercultural programs are important to a student's experience Marjan replied:
"I believe intercultural programs allow students to feel at home, especially at a predominately white university where they may at times feel unwelcomed. Having intercultural groups only allows for many students who come from different backgrounds to immerse themselves into the larger CUA community. These programs on campus express how important and valid their experiences and feelings are at Catholic. Through these intercultural programs, I truly believe students are able to find their voice, sense of security, and confidence that they may not be a strong without it."
Marjan is one of many students at The Catholic University of America working to promote diversity and inclusion on campus and beyond. Whether students like Marjan are coordinating club events, engaging the Washington DC community, or travelling the world, CCE works to make their time at Catholic University of America both memorable and impactful.