Sherman Abrams '17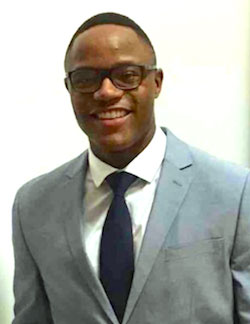 The Catholic University of America is blessed to have student leaders who take ownership of their education and make the most of their undergraduate experience embody our University's mission and values. These students' involvement in clubs and activities enriches their time at the University and provides them with invaluable leadership opportunities: they are often presidents, club executive officers, Orientation or Resident Advisors, Student Ministers, or representatives on Intercultural Leadership Council. These students often serve as mentors for their classmates and prospective students-their stories can serve as roadmaps for success and model how to get involved in CUA's multicultural community.
Sherman Abrams is a senior Biomedical Engineering major from Newark, New Jersey. Sherman has been a member of the Black Student Alliance. He has also participated in a variety of Campus Ministry initiatives dating back to the Freshman Retreat as a first year, as well as Renew and the Men's Discernment group. Sherman is also known by some on campus for his work as kickboxing and mixed martial arts instructor at the Kane. And not only is he wrapping up his final semester as a student, but also as a Resident Advisor an initiative through which he's mentored and helped countless students navigate college life.
Once the Center for Cultural Engagement was opened Sherman quickly established himself as a recurring presence. Whether it is by attending the Major Keys or What's Going On? conversations, or giving younger students advice on applying for campus leadership programs, navigating their major, or letting them know about resources on campus, Sherman has consistently demonstrated his willingness to help others.
When asked about the affect these programs and organizations have had on his tenure at CUA, Sherman responded:
"Being a part of these programs and organizations has affected my experience in a positive manner. They provide a sense of inclusion within the CUA community that was not always there. These organizations and programs also give a safe space for minority students to talk about the different stereotypes they face on campus, before they can be discussed with the larger part of the student body."
Sherman also went on to add:
"Intercultural programs are important for a student's experience because they give comfort and inclusion to students who may sometimes feel that they have been underrepresented."
Sherman is one of many students at The Catholic University of America working to promote diversity and inclusion on campus and beyond. Whether students like Sherman are coordinating club events, engaging the Washington DC community, or travelling the world, CCE works to make their time at Catholic University of America both memorable and impactful.